Candy and Curt have an unusual love story.
As their relationship deepened, she fell in love quickly. They enjoyed a long distance relationship for a while but Curt eventually moved to Florida to be with her.
"It wasn't long after that I realized he wasn't the same," said Candy.
Curt was diagnosed with early-onset Alzheimer's at the age of 54.
They soon married and began ticking things off his bucket list. As the disease progressed, he began to lose the ability to do the things he loved. He couldn't paint, read or run like he used to. His wife, Candy, needed help taking care of him. By the end of a three week hospital stay Curt could no longer perform basic tasks such as walking or eating. His doctors encouraged Candy to call Suncoast Hospice. He was evaluated the same day, and when Candy was ready, he was moved to the Mid-Pinellas Care Center.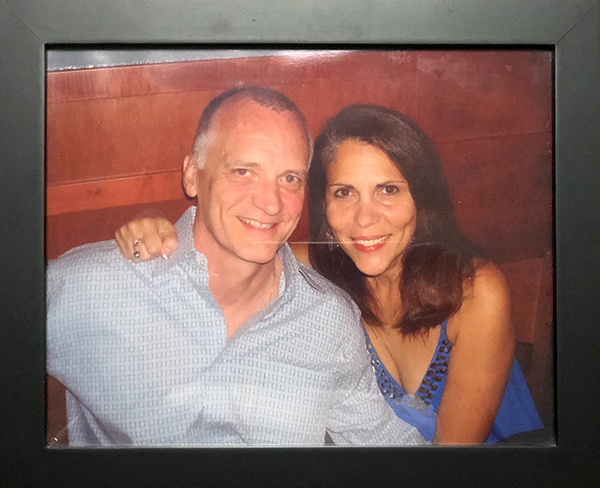 Once settled in his room at the Care Center, nursing aides Rabiaa and Tina gave him a bath and a soothing massage. They did all they could to make him comfortable, visibly easing the anxiety he couldn't communicate.
"To see them love and care for a man they just met was a calming, relieving experience in the midst of a tremendous loss I knew was coming," said Candy.
The support from Suncoast Hospice didn't stop with Curt's death a week later. His care team took care of all the arrangements while Candy was able to take the time she needed to say goodbye.
"When he was taken from his room, I'll never forget how the aides, nurses and doctors lined up in the hall and honored him, this man they didn't know," shares Candy.
Your continued support makes it possible for us to provide this level of care and support for thousands of patients and their loved ones – and truly make a difference in each of their lives.
"Suncoast Hospice provides so many programs. I want others to feel peace, thankfulness and hope from these services," Candy shares. "I was a 24/7 caregiver, but hospice let me be a wife again. And that was a gift. "
We can't do this without you. Every gift makes a difference. Thank you for caring. Click to make your donation today.