Join us Wednesday, November 6 for our inaugural Inspirations Luncheon with special guest Tembi Locke, actress, author and advocate. Tembi's recent book From Scratch: A Memoir of Love, Sicily, and Finding Home is a New York Times Best Seller, #1 Best Seller in Travel on Amazon and was chosen as the May pick for Reese Witherspoon's Book Club "Hello Sunshine." From Scratch is for anyone who has dared to reach for big love, fought for what mattered most and needed a poignant reminder that life is, after all, delicious. Sponsorships and tickets available.
For more information click here

.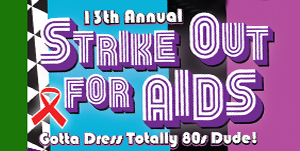 EPIC (Empath Partners in Care) just hosted the 13th Annual Strike Out for AIDS bowling event, two nights of fun in Tampa and Dunedin. Bowlers came out to enjoy a great evening of 80's-themed music and costumes, three bowling games, giveaway prizes and a fantastic opportunity to win raffle. With the support of nearly 200 participants, we were able to raise more than $19,000 in support of EPIC and their important HIV/AIDS services and programs.
See photos from Strike Out for AIDS here.
.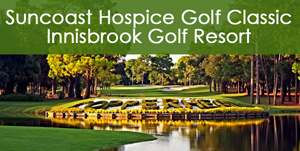 The Suncoast Hospice Golf Classic, powered by Vology and presented by the Russell and Ruth Anderson Charitable Foundation, took place on September 13 at the beautiful Innisbrook Golf Resort Copperhead Course. It was a great day of golf, food and fun with 124 golfers out to support Suncoast Hospice. This year's event raised more than $113,000 for the patients and families we take care of each day.
Thank you to the following sponsors: Clearwater Gas System, Outfront Media, Pinch a Penny, SEI, Tech Data, Curlew Hills Memorial Garden, Medline, Modern Mail, Sylvan Abbey Funeral Home Memorial Park, Transamerica, The Clearwater Threshers, Wells Fargo, Lokey Charities, Chick-fil-A, Hooters, JJ Taylor and Channel 10.
Click here to view photos
Upcoming Opportunity to Get Involved: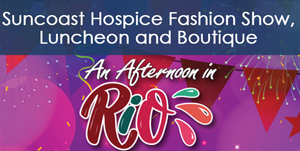 Saturday, February 1, 2020 – The 27th Annual Suncoast Hospice Fashion Show Luncheon and Boutique will be held at Innisbrook Golf Resort. Come out and join us for this year's event, An Afternoon in Rio, a unique fashion show and shopping experience highlighting the treasures that we collect at our Resale Shops over the course of a year. Sponsorships and tickets are now available.
For more information click here.
Authored by: Brooke Boccacino, Director of Corporate Philanthropy