She was from Spain and grew up cooking homeland dishes from scratch. Her greatest joy was her many friends and family members, who called her "Abu." She dedicated her life to family, faith and volunteer service at a children's hospital.
Her best friend was her hija (daughter), Mati, a nurse at the hospital. They lived together for 21 years in Mati's home. Both shared February birthdays and a loving bond.
"My mom was a noble soul. She was my companion. She was our compass. She loved everyone and everyone loved her. She filled every nook and cranny with love," Mati explained.
Then came the news that no family wants to hear.
Last January, Amparo was diagnosed with an incurable illness. She was admitted into Suncoast Hospice care.
Thankfully, Mati was not alone in caring for her mother. She felt relieved having the support of her daughter, her sister and brother and the Suncoast Hospice Orange Team.
"The team was amazing. Our social worker, Cheryl, was very sweet and had a good relationship with my mom. Kim, our nurse, brought her flowers. She made us laugh. She was an advocate for our family. Being a nurse I was very hands-on with my mom, but Kim reminded me that I was her daughter and that I could let go a little," Mati said.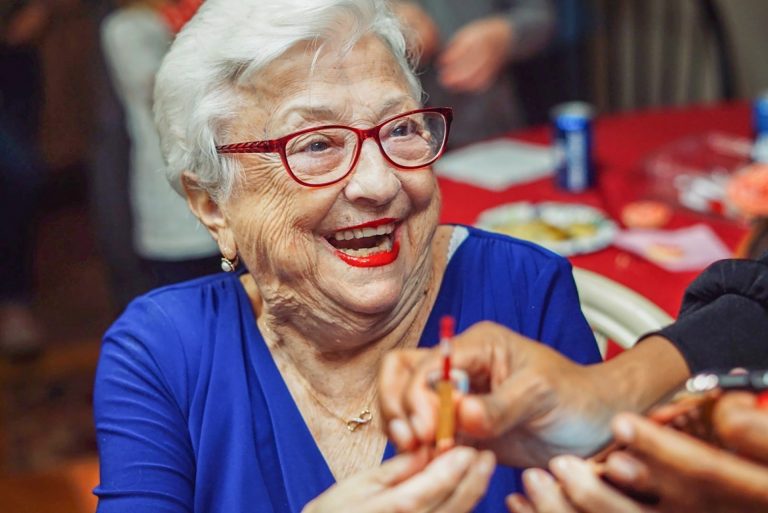 Every dollar you give supports compassionate care for patients and families.
The team's attention and comfort helped the whole family. "Our volunteer coordinator, Dawn, called to see if we needed anything. Every time our massage therapist, Linda, gave my mom a massage, it felt so good for her and she slept so good. We had the crisis nurses come in and the response was always great. We were always supplied with everything we needed for my mom's care. We wanted her to be comfortable."
The medical director, Dr. Jasmin Jerez-Marte, made a special impression speaking Spanish on her visits.
"Dr. Jerez-Marte was so personal and lovely with my mom. She laughed with her and held her hand. It meant a lot that my mom was able to participate in her care with her doctor, and she didn't need me to translate. My mom was very grateful," Mati said.
The family focused on creating love and happiness together to the end.
She was living her life and we were living it with her. We rented a beautiful beach home and went to the beach. We had so much fun and we did it again. And she published her cookbook."
In July, Amparo died peacefully at home. Her family continues to celebrate her life and legacy. For Mati, that means looking to finally take a trip to Spain to do the Camino de Santiago spiritual pilgrimage in her mom's honor.
"I'm going to make her signature empanadillas for her friends at the hospital. She brought them in every week and made me promise to do so too. It's very hard not to have her around. My family pretty much chats every other day about food, recipes and our feelings. It has been really good for us," Mati said.
Your contributions are the recipe for greater care and comfort for our community. Please give today!
We hope you find it in your heart to make a donation and a difference. You will help others, like Amparo and her family, receive the care and services they need, regardless of their ability to pay.
Thank you for your heartfelt support!