Thank You for Your Interest in Hosting an
Event for the Suncoast Hospice Foundation
We ask that you complete the Community Events form below and submit for our review. The information provided will allow us to review the details of your event and approve the use of the Suncoast Hospice Foundation | Empath Health name and trademarks. Requests are reviewed on a monthly basis and must be received no later than 60 days in advance of the event. Empath Health reserves the right to refuse the use of the logo and/or name.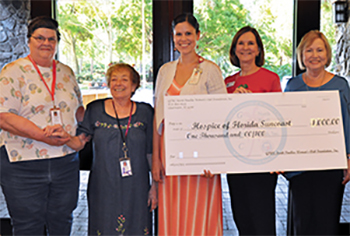 GFWC North Pinellas Woman's Club presents
Empath Health with a $1,000 community grant
benefiting our volunteer sewing program that
makesitems for our Empath Health patients and
Suncoast PACE participants..