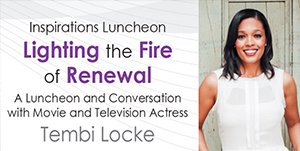 First Annual Inspirations Luncheon
Thank you to the many sponsors and guests who joined us our First Annual Inspirations Luncheon with keynote speaker Tembi Locke, actress, author and activist. Tembi shared her story of being a caregiver for her husband for 10 years at a very young age and how, after his passing, she found a way to go on. Her story resonated with the guests who were able to speak with her one-on-one at her book signing. Thank you to Presenting Sponsor The Russell and Ruth Anderson Charitable Foundation.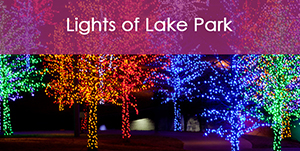 Celebrating the Holidays and Supporting Suncoast Hospice at Lights of Lake Park.
A tremendous thank you to the 200+ volunteers who came out and supported Suncoast Hospice through the month of December at The Lights of Lake Park. Also thank you to Dan Rooney and Amy Maltinos for leading this amazing community event and to all of the residents who participated.
This event began 27 years ago by Eddie Dow in honor of the care his wife Ruby received. In 2007 Eddie also passed away but his spirit continues as each year the Lights of Lake Park are dedicated to their memory and to the mission of Suncoast Hospice. During the 26 years Lights of Lake Park has raised close to $960,000 in support of Suncoast Hospice care in Pinellas County.
Upcoming Opportunities to Get Involved: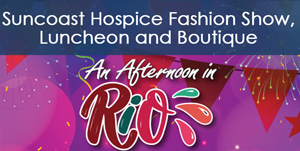 Saturday, February 1, 2020 – The 27th Annual Suncoast Hospice Fashion Show Luncheon and Boutique will be held at Innisbrook Golf Resort. Come out and join us for this year's event, An Afternoon in Rio, a unique fashion show and shopping experience which highlights the treasures we collect at our three Resale Shops during the year. Sponsorships and tickets are now available.
For more information click here.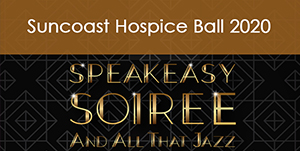 Saturday, March 21, 2020 – Fellas and Flappers, get ready to get dolled up for the bee's knees event of the 20's as we celebrate the life-changing care Empath Health has provided for more than 40 years. The Suncoast Hospice Ball will be held at the Vinoy Renaissance St. Petersburg Resort & Golf Club. Reserve your table or tickets to the Speakeasy Soiree and All That Jazz as we celebrate with a spectacular night of food, dancing and live auction.
For more information click here.